Leírás
ADEA Newsletter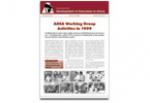 Published on a quarterly basis, the ADEA Newsletter is a vehicle for information on Association for the Development of Education in Africa (ADEA) activities. Each issue has a specific focus and includes the latest information on the work of the ADEA Working Groups. In addition to the issues currently available online, there is a comprehensive index of the Newsletter for the years 1993 to 1997. These issues are available in print and can be ordered through the ADEA Secretariat.
Honlap: http://www.adeanet.org/en/newsletters
Teljes szövege elérhető.